Bridal Pant Suits
Bridal Pant Suits are a lovely option to wear on your wedding day. A white pant suit or ivory pant suit can be a great outfit choice for a bride, but you may also want also consider a pant suit in other colors.
Listed below are some of our favorite Bridal Pant Suits. Clicking on the pictures will take you to websites where they are offered.
Flirty Feminine Bridal Pant Suit – offered at Macy's
How cute is this flirty pant suit! When you wear these separates together, you have an outfit that makes a wonderful bridal pant suit, and would be perfect for an evening wedding. This outfit is very feminine with the sequined lace top. This particular pant set's top comes in a white color (or a color called "champagne") and the separates wide leg style pants come in black. The removable ribbon sash tie on the top adds to the charm of this outfit. This pantsuit comes in misses sizes.
---
Chic Bridal Pant Suit – offered at Boscov's
This pant suit really is the epitome of a simple chic bridal pant suit. It comes in a color called cloud, and is so pretty that you may want to consider wearing it as a bridal pant suit. The stylish jacket has a stitch trim. This pant suit comes in misses sizes.
---
Lovely Pant Suit – offered at Blair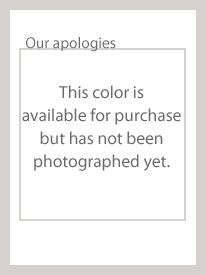 This pant set is another option to be worn as a bridal pant suit. This pant suit is available in the color ivory which is a nice option for a bridal pant suit. You might want to wear this outfit if you are having a summer wedding. It consists of a top with pretty lace, a tank and elastic waist pants. The pant suit comes in misses sizes, petite sizes, and plus sizes.
---
Attractive Plus Size Bridal Pantsuit (available in the color white) – offered at Amazon
This pretty plus size pantsuit would work great as a bridal pantsuit. Shown above in a pink color, itt comes in the color white (as well as other color choices). This feminine three piece set's jacket has pretty ruffles on it. The set includes the jacket, pants as well as a skirt. The pants have a side back elastic waist.
---
Fun Wedding Pants Suit – offered at Macy's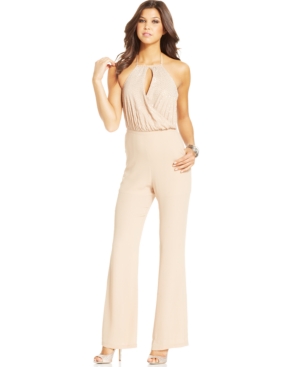 This outfit is actually one piece – a jumpsuit. The tan color choice is a fun option to wear as a bridal pant suit. This pantsuit would be nice for an outdoor, more causal wedding. This sleeveless outfit has a beaded front and halter neckline . The inseam in approximately 31 inches. This pant set comes in misses sizes.
---
Elegant Wedding Pant Suit – offered at Womensuits
Click here to see this pantsuit at Womentsuits.com
This pant suit's color is a lovely shade of ivory. This pant suit is very elegant, and the top is very beautiful with it's decorative details. The short jackets adds style to the look.
---
Pretty Pants Set – offered at Macy's
Click here to see this pantsuit at Macys.com
This pants set comes in the color ivory. It is sleek with clean lines and can be worn as a classic wedding pant suit if desired. It comes in misses sizes.
---
Alfred Angelo Pant Suits – offered in both misses and women's sizes in many color choices
Designer Alfred Angelo creates separates that include tops, pants as well as skirts. These separates are often listed as mother of the bride outfits, but the color choices normally include pieces in the color white and the color ivory which makes them a great choice for a bride to wear as a bridal pant suit. In fact, a tip when looking for bridal pant suits is to look for mother of the bride pant suits. These suits are often very dressy and may come in a variety of colors – including ivory. These fancy tops often have beautiful details such as sequin and sparkling bead embellishments, rhinestones, flowing designs and more. Pair a coordinating top with pants, and you can create a pant suit! They typically come in sizes 0 to 26W or 30W. If you wanted to wear a bridal pant suit in a non-traditional color, you have a lot of options with these outfits – they come in up to 62 colors!
---
Looking for information and advice about Bridal Pant Suits? Check out our article on Wedding Pant Suits for Brides.