Bridal Pant Suits
Bridal Pant Suits are a lovely option to wear on your wedding day.
Listed below are some of our favorite Bridal Pant Suits. Clicking on the pictures will take you to websites where they are offered.
Chic Bridal Pant Suit – offered at Womensuits
This pant suit really is the epitome of a simple chic bridal pant suit. It is actually in a pink color, but is so pretty that you may want to consider wearing it as a bridal pant suit. Both the stylish jacket and camisole are decorated with sparkling rhinestones. The pants have a 31-1/2″ inseam. This pant suit comes in sizes 4 to 20W.
---
Attractive Plus Size Bridal Pantsuit – offered at OneStopPlus
This pretty plus size pantsuit would work great as a bridal pantsuit. It comes in the color ivory bronze and includes the jacket, shell, and pants. This feminine three piece set's jacket is a duster style and has pretty beading. The pants have an elastic waist.
---
Flirty Feminine Bridal Jumpsuit – offered at Macy's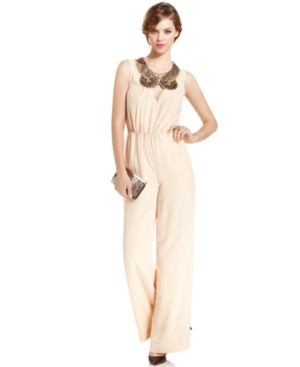 How cute is this flirty jumpsuit! Unlike a pant suit, a jumpsuit is a one piece outfit with attached pants. A bride might want to consider wearing one of these types of jumpsuit outfits to her wedding. This particular jumpsuit doesn't come in white or ivory (it comes in a color called "powder") and the beaded collar adds to the charm of this outfit. This jumpsuit comes in sizes XS to L.
---
Elegant Wedding Pants Set – offered at Old Pueblo Traders
This pants set is an excellent choice to be worn as a bridal pant suit. This outfit comes in either the color white (or the color pink). The jacket is dressed up with pretty lace. The sleeveless tank has side slits. The pants have an elasticized waist. This pant set comes in misses sizes 10 to 20, petite sizes 6P to 20P. and women's sizes 16W to 26W.
---
Choice of Colors for this Elegant Wedding Pant Suit – offered in women's sizes at OneStopPlus
When you wear these separates together, you have an outfit that makes a wonderful bridal pant suit. This pant suit's color choices include white (as well as some other color choices such as fresh aqua, black and sweet tulip.) These pant suit separates are very elegant, and the top is very beautiful with scalloped details and sequin and bead embellishments. It comes in sizes 14W to 34W.
---
Lovely Ivory Pant Suit– offered at Blair
This lace pant set would be a great choice to be worn as a bridal pant suit. This pant suit is available in the color ivory (as well as the color dusty mauve) which is a nice option for a bridal pant suit. It consists of a pretty lace top, knit tank and elastic waist pants. The pant suit comes in sizes S to 3XL as well as petite sizes PS to P2XL.
---
Many Color Choices for this Pretty Pant Suit – offered in both misses and women's sizes at Plus Size Bridal
Shown in the color Black, this pant suit also comes in White, Ivory, and many other colors. While this pant suit is also often listed as a mother of the bride outfit, it works just as well as a bridal pant suit. In fact, a tip when looking for bridal pant suits is to look for mother of the bride pant suits. These suits are often very dressy and may come in a variety of colors – including ivory – like the one shown here! The top has spaghetti straps and a design on it, the short jacket is a bolero style, and the pants are a wide leg style. This pant suit comes in sizes 2 to 28.
---
Alfred Angelo Pant Suits – offered in both misses and women's sizes
Designer Alfred Angelo creates separates that include tops, pants as well as skirts. These separates are often listed as mother of the bride outfits, but the color choices normally include white and ivory which makes them a great choice for a bride to wear. Pair a coordinating top with pants, and you can create a pant suit! They typically come in sizes 0 to 26W.
---
Looking for information and advice about Bridal Pant Suits? Check out our article on Wedding Pant Suits for Brides.